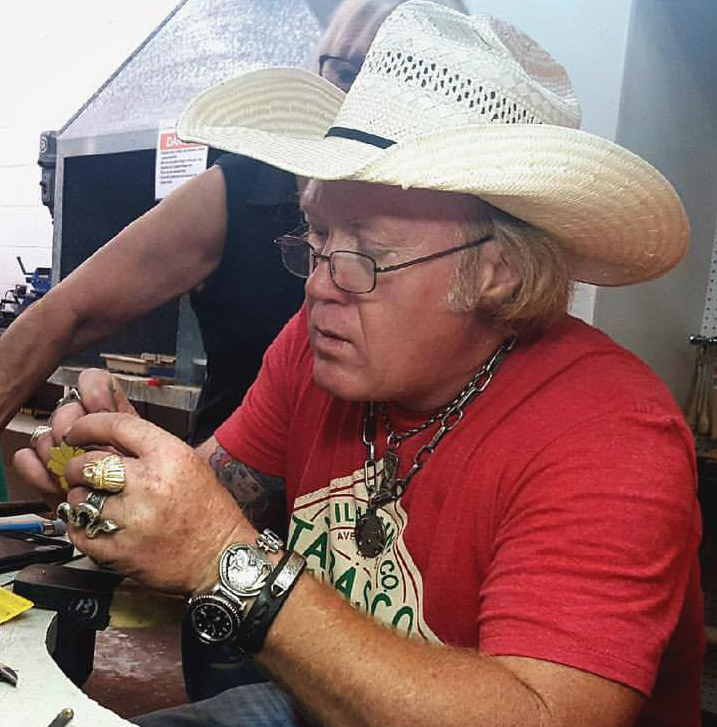 C O W B O Y T R U E P R E S E N T S . . .
Nick Cunningham
Santa Fe, New Mexico
---
Nick Cunningham (aka Tricky Nicky) honors and redefines Western style with his silver and gold jewelry and buckles.

Nick's work is authentic to say the least! The finest of traditional cowboy engraving inspired by the nostalgia of Americana pop art, history and romance. He repurposes parts and pieces: a piece of the past can be a part of a new piece. His appreciation for legacy is artistically teased in modern contemporary pieces.

Nick started fabricating and selling his pieces while in high school and continued working his way through college with his craft. Determined to "make it" as an artist, he's done nothing else. For nearly 30 years.

His work has been commissioned by private art collectors, dealers, retailers, and metal artists needing his contemporary innovation and skill. He has been spotlighted in national magazines and publications.

Nick is located in Santa Fe, New Mexico, where he is represented at Malouf's on the Plaza.

Contact
Nick Cunningham


505-557-8274
nick@badbronc.com